Netflix in on a roll lately with turning to beloved YA novels into pretty decent little films. Most recently they've adapted my beloved Dumplin'.  Here's what I thought….

The Book:
Dumplin' tells the tale of Willowdean Dickson, a self-proclaimed fat girl who just happens to be the daughter of a beauty queen. She enters the town's treasured beauty pageant as a form of protest and what she learns is that self acceptance is more beautiful than thin can ever be.
I've shared my favorite quotes from the novel. I got so much from them.
 "There's something about swimsuits that make you think you've got to earn the right to wear them. And that's wrong. Really, the criteria is simple. Do you have a body? Put a swimsuit on it."
With quotes like that it's hard not to leave the novel feeling better about one's insecurities. The book is a love letter to freaks, fat girls and Dolly Parton. I put it down feeling amazing, like I could take on the world!
The Movie:
The movie tries to accomplish a lot of what Murphy's novel has done in terms of self acceptance.
Will and her bestie, Elle, come out for the health & wellness portion of the competition in swimsuits that read, "every body is a swimsuit body."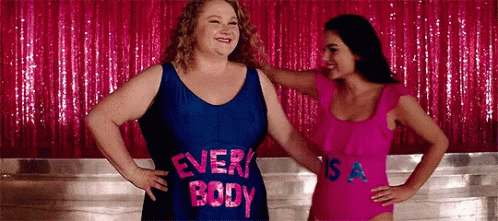 But it falls short in other areas. With the exception of Millie, we do not see as much into the lives of the other pageant contestants. This seems a shame to me.
And we also don't really get to see any of the insecurities that Will's mom, Rosie, has herself. It's a shame really, because it makes the character more likeable. I just didn't feel as sorry for her in the movie. Perhaps that has to do with the casting of Jennifer Aniston as Rosie? Though I've seen Cake, I know Aniston has some real acting chops…. I'm not sure.
One of the biggest crimes of the movie version of Dumplin' however, is hard to describe because it is so closely related to one of it's successes. And that is the lack of Bo.
In the novel, Bo is the mysterious boy who works at the diner with Will. He has his own hangups and difficulties, but he's certain about one thing – he's into Willowdean.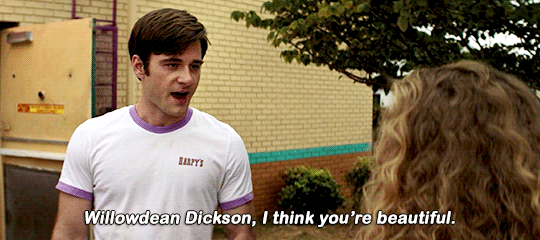 I love me some Bo! But his relationship with Willowdean is not as front and center in the movie as in the novel. Instead the movie focuses more on Will grieving over the loss of her aunt, Lucy. Lucy is Rosie's sister and the only one who ever really understood Willowdean. While her death is a theme in the book, it gets more attention in the movie. AND I LIKE THAT.
I just miss Bo….
In a Nutshell:
Is the book ever better than the movie??? OK, sometimes (Forrest Gump, Psycho, The Notebook). But this….is not one of those times.
I enjoyed the movie, absolutely! I think it's very well cast, particularly Danielle Macdonald as Willowdean. And Maddie Baillio as Millie??? We will be seeing more of her, I'm sure. She is an unstoppable force of energy. Oh, and yeah, Luke Benward as Bo might be my new Internet boyfriend (OK, not really. I'm not ready to break up with Noah Centineo yet.)
But the book just shone so much brighter, had more heart and much more humor.
All in all, it's a good choice for a quiet girls' night in, but if you're looking for a feel good, Dolly Parton laden pick me up, reach for the novel instead. And then when you're ready, grab Murphy's sequel to Dumplin', Puddin'. It's available now!