By Michelle Obama
Goodreads / Audible
Series?: No
Publisher: Random House Audio
Release Date: November 3, 2018
Length: 19 hours, 3 minutes
Format: Audible Audio
Rating: Like the American Flag, 52 Stars
The Blurb:
In a life filled with meaning and accomplishment, Michelle Obama has emerged as one of the most iconic and compelling women of our era. As First Lady of the United States of America—the first African-American to serve in that role—she helped create the most welcoming and inclusive White House in history, while also establishing herself as a powerful advocate for women and girls in the U.S. and around the world, dramatically changing the ways that families pursue healthier and more active lives, and standing with her husband as he led America through some of its most harrowing moments. Along the way, she showed us a few dance moves, crushed Carpool Karaoke, and raised two down-to-earth daughters under an unforgiving media glare.

In her memoir, a work of deep reflection and mesmerizing storytelling, Michelle Obama invites readers into her world, chronicling the experiences that have shaped her—from her childhood on the South Side of Chicago to her years as an executive balancing the demands of motherhood and work, to her time spent at the world's most famous address. With unerring honesty and lively wit, she describes her triumphs and her disappointments, both public and private, telling her full story as she has lived it—in her own words and on her own terms.

Warm, wise, and revelatory, Becoming is the deeply personal reckoning of a woman of soul and substance who has steadily defied expectations—and whose story inspires us to do the same.
My Thoughts:
So, this is the first time I've reviewed the memoir of a political figure. I'm pretty open about my political viewpoints usually, but I try to keep that out of this space. I want to talk books here, not politics. So I will try to keep this review politic-free (though that is going to be a toughie).

First let me say, that I loved Michelle Obama as a narrator. She has a regal-ness about her that made her voice quite pleasant to listen to. But her delivery was not that of a stuffy politician, more like a girlfriend. I felt like she was sitting next to me, telling me her life story and I was enraptured.
And what a tale it is, from a spunky young girl growing up in Chicago's South Side to the First Lady of the United States and beyond, Michelle tells us exactly how she became the woman she is today.
The way she talks about President Obama is just so darn cute. These two clearly adore each other and I love and admire that so much.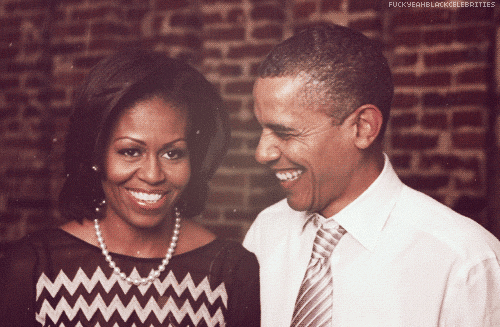 Note, this is not some salacious biography. No scandals are dropped no gossip given. This is just the very real delivery of a story of a woman who fell desperately in love with a man who was destined for greatness, for a life she never craved, one in politics.
Favorite Quotes:
I found Obama to be rather insightful, particularly on the subjects of education, diversity and feminism. I think there are lessons here we could all learn, if we listen. Some of my favorite quotes:
"For every door that's been opened to me, I've tried to open my door to others. And here is what I have to say, finally: Let's invite one another in. Maybe then we can begin to fear less, to make fewer wrong assumptions, to let go of the biases and stereotypes that unnecessarily divide us. Maybe we can better embrace the ways we are the same. It's not about being perfect. It's not about where you get yourself in the end. There's power in allowing yourself to be known and heard, in owning your unique story, in using your authentic voice. And there's grace in being willing to know and hear others. This, for me, is how we become."

"It hurts to live after someone has died. It just does. It can hurt to walk down a hallway or open the fridge. It hurts to put on a pair of socks, to brush your teeth. Food tastes like nothing. Colors go flat. Music hurts, and so do memories. You look at something you'd otherwise find beautiful—a purple sky at sunset or a playground full of kids—and it only somehow deepens the loss. Grief is so lonely this way."

"Now that I'm an adult, I realize that kids know at a very young age when they're being devalued, when adults aren't invested enough to help them learn. Their anger over it can manifest itself as unruliness. It's hardly their fault. They aren't "bad kids." They're just trying to survive bad circumstances.

"Friendships between women, as any woman will tell you, are built of a thousand small kindnesses… swapped back and forth and over again."
Final Verdict:
I've read reviews that say she has not stuck to the facts, that this book is poorly written. I just don't find either of those to be true. Obama is simply given her version of events. And she's done so in a way that I find both entertaining and enlightening.
I loved it, and would love to congratulate her much in the same fashion she did her husband while he was campaigning: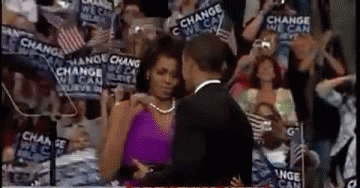 I'm giving this one star for every star on the American flag. 52 total. Well done, FLOTUS. Well done.