Why do I read romance? Because it makes me feel.
Most of the time, they make me feel happy. And, for the most part, that's why I read them. For the feel-good, happy ending. Sometimes, though, they rip my heart out, stomp on it, throw it in a blender and then serve it up to me at the table. And the heartbreak? Sometimes that is good too. LOL
Thank you to Fiction No Chaser for tagging me to share the books, movies and shows who are guilty of ripping out my very soul in a most discourteous manner. (And by tagging me I mean they said, "Anyone who wants to do this, consider yourself tagged." See? They tagged me! Now, go follow their awesome blog!)
THE RULES:
Thank the person who tagged you and create a pingback to the original author – Nel @ Reactionary Tales.
Share at least 5 (but more are welcome) romances that tugged your heart strings. They can be from books, movies, TV shows, manga; anything you can think of! They can be examples of sad tears, angry tears, happy tears or a combination of all three.
Nominate 5 (or more) people to share their emotional traumas.
---
Let the heartbreak begin….

Hazel Grace and Augustus – The Fault in Our Stars
Can anyone even complete this tag without including The Fault in Our Stars??? Book or movie version, either one, had me dissolved into a puddle of tears on the floor, desperate wracking sobs and everything.

Most gut-wrenching quote from the book:
"There are infinite numbers between 0 and 1. There's .1 and .12 and .112 and an infinite collection of others. Of course, there is a bigger infinite set of numbers between 0 and 2, or between 0 and a million. Some infinities are bigger than other infinities. A writer we used to like taught us that. There are days, many of them, when I resent the size of my unbounded set. I want more numbers than I'm likely to get, and God, I want more numbers for Augustus Waters than he got. But, Gus, my love, I cannot tell you how thankful I am for our little infinity. I wouldn't trade it for the world. You gave me a forever within the numbered days, and I'm grateful."
You kill me, John Green. Every. Time.
Dani and Court – The Man in the Moon
If you haven't seen this little gem of a movie from 1991, get thee to a streaming service! (Seriously. Go. I think it's available on Netflix and Amazon Prime both. You'll thank me later.)
Two sister in love with the same boy… Ah, it's a tale as old as time, isn't it? But tragedy taints this story of first loves, coming of age and the love between sisters. Get your tissues ready, people!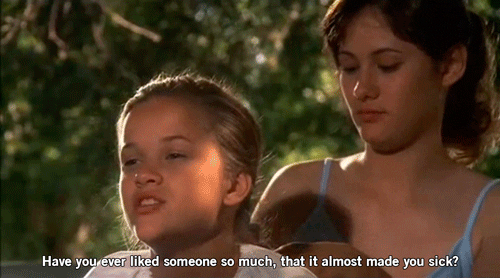 Beau and Shelly – Beard in Mind
It's been a while since I wrote about my personal writing deity, Penny Reid. Her books always give me the feels, but Beard in Mind almost broke me.
The book centers around Beau, the most charming and likable of all seven of the Winston siblings, and Shelly, who is to put it nicely…. a bit prickly. Shelly doesn't mean to be that way! She is plagued with Obsessive Compulsive Disorder, a condition that has her convinced that if she touches anyone, she will bring harm to them.
It was heartbreaking to hear Shelly's thoughts and learn how her compulsions make it impossible for her to hold her baby nephew for fear of hurting him.
Through the course of the novel, Reid completely dismantled my heart and soul like an engine. But, like any good mechanic, she put it back together again at the end.
Most heart-crushing quote (on the Japanese art of kintsugi and why Shelly should not be afraid to hold a teacup):
"the point of kintsugi is to treat broken pieces and their repair as part of the history of an object. A break is something to remember, something of value, a way to make the piece more beautiful, rather than something to disguise. They use gold, not invisible superglue, because mistakes shouldn't be considered ugly. Broken pieces and their repair merely contribute to the story of an object, they don't ruin it."
Allie and Noah – The Notebook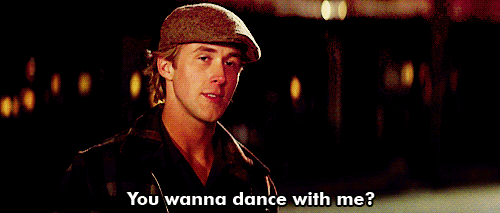 Confession time: I've never read the book version of The Notebook. Deeper confession time. I hate Nicholas Sparks. *ducks to avoid thrown tomatoes* I'm just not a fan of his….
But I am a fan of Nick Cassavetes! His imagery… the film itself without any bit of story is truly beautiful. And ok! Ryan Gosling is a hottie; I can't lie. And his undeniable chemistry with Rachel McAdams! Whew! This is one of my favorite movies even though it makes me cry nearly every time I see it.)
Geez! I can't even place that picture above without tearing up!
Tear-inducing quote: "If you're a bird… I'm a bird…"
Pudge and Alaska – Looking for Alaska
Why, John Green??? Why do you do this to me???
This tale of first love, of Pudge's love for a wild and wildly depressed girl, absolutely wrecked me. It left me thinking about it for days afterward.
Looking for Alaska is, in my opiniong, Green's best work, though The Fault in Our Stars gets all the glory. But Pudge's pain is palpable in this novel. I grieved with him.
"What is an "instant" death anyway? How long is an instant? Is it one second? Ten? The pain of those seconds must have been awful as her heart burst and her lungs collapsed and there was no air and no blood to her brain and only raw panic. What the hell is instant? Nothing is instant. Instant rice takes five minutes, instant pudding an hour. I doubt that an instant of blinding pain feels particularly instantaneous."
I Tag…
Fiction No Chaser didn't truly tag me… So I'm not tagging anyone either. But if you want to do this tag, please do! And tag me so I can see what breaks your heart and we can all cry together! Or, just let know in the comments!