By Tara Sivec
Goodreads
Series?: Yes, The Naughty Princess Club #3
Publisher: Swerve
Release Date: September 4, 2018
Length: 304 pages
Format: eBook
Rating: 3 Stars
The Blurb:
A struggling antiques collector finds herself falling in love with a millionaire playboy; but can she ever be a part of his world?

Meet the Naughty Princess Club, a series from USA Today bestselling author Tara Sivec that brings readers to Fairytale Lane and the hilarity—and romance—that three women fall into once they decide to strut their stuff and bring on their own happily ever after.

While her friends have broken free of their insecurities, Ariel Waters is struggling to come out of her shell. Her ex-husband took away her voice and her self-confidence, and Ariel is drowning under a sea of debt to afford the alimony she has to pay him. She refuses to ever fall for a man's charms again, and is determined to make her own way.

When her house and her beloved antiques are taken by the bank after too many missed payments, Ariel finds herself adrift until the infuriatingly charming Eric Sailor comes to her rescue. Although she can't stand the millionaire playboy, Eric's kindness and unconditional support reveal hidden depths and a love that Ariel never imagined she could find.

But there are outside influences who will stop at nothing to keep them apart; can Ariel and Eric weather the storm and find a way to be together?
My Thoughts:
This is a modern day retelling of The Little Mermaid.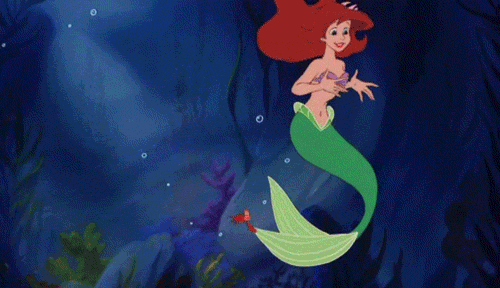 I should be honest here, I'm not a big Disney fan, but I don't really think that clouded my opinion here, though maybe it did….
Right off in chapter 1, my thoughts regarding our heroine, Ariel, were, "I don't like her." She was meant to be spunky I think but it just came off super bitchy. In chapter 2 I wrote myself a note. It reads, "Ugh. I think I hate her."
Our hero Eric however? I liked him right away. Ariel however, cannot stand him. And I love a good enemies-to-lovers romance, so I kept reading. He was sweet and he did very lovely things for Ariel, including taking her to Goat Yoga (more on this later), despite the fact that she was nothing less than hateful to him. I kept asking myself, "What does he see in her???"
But as the book went on, Eric began to charm Ariel and she became much softer. She actually began to win me over. She loves her friends and she has a reason for being so prickly. I'm a forgiving gal, so even I changed my tune.
What I didn't like about the book? I think Sivec is trying too hard to make a story based on the Disney movie. Some of her parodies had me rolling my eyes. Ariel's ex-husband was named Sebastian Waters, her father is Mr. Triton but everybody calls him "The King" because of his used car lot commercials. Eric's last name is Sailor and he lives on a house boat. At karaoke he sang "Kiss the Girl." Ariel has a bunch of pet fish…. all named Flounder. Did I mention there is a villainous woman who works for the town board and is even bitchier than Ariel? Wanna guess her name???? I'll give you a hint: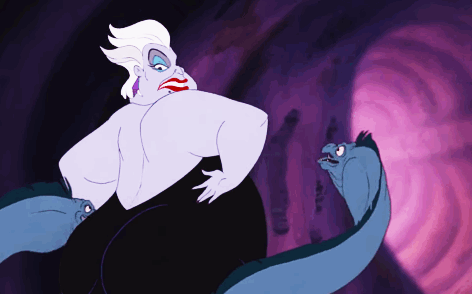 All that was missing were her little eel friends. Are you rolling your eyes yet? The whole thing just felt too forced for me. Did. Not. Like.
What I did like: I liked the chemistry between our couple and the pacing of the story. I love that Eric has a ridiculous looking hairless cat who is ridiculously named Derrick Alfredo! I LOVED that he took Ariel to goat yoga. Ariel didn't know that was a thing, but it's TOTALLY a thing!
I have a friend who has been and it's something I would love to do one day! I also liked that the three members of the Naughty Princess Club felt they were owning their own sexuality in becoming strippers for hire. I liked the body positivity message at play here.
There was just so, so much more that I didn't like. So I gave the book three stars. Without the forcing of Disney down my throat, I might've given it more. But it was just too irksome.
3 Disney When You Wish Upon a Star Stars.