I have been DREAMING about the beach! I can't believe it's July and I haven't made it out there yet. Soon, readers, soon….
I want the beach in my life so badly that I tagged myself in this book tag! (It just sounded fun!)
1) THE SAND
A BOOK THAT STUCK WITH YOU LONG AFTER YOU FINISHED READING
There's a big 'ol surprise ending that packs an emotional whollop at the end of this one! And it sure did stick with me. The reviews on this one certainly are mixed. But, personally, I likeLockhart's writing style. I appreciate her side characters and found this novel basically haunting and beautiful.
2) THE SUN
A BOOK THAT BURNED YOU
There for a while, I was a huge Handler fan. So of course I ran out to by her first memoir. The problem is, though I found Handler very fun at the time, I found this book completely….un-funny. I felt like she was trying to hard to be sensational and salacious, that she was pandering to her audience. It just felt…gross. I didn't like it and it kind of colored my view of her and I don't particularly find her funny any more. 😦
3) THE WAVES
A BOOK THAT CALMS YOU DOWN AFTER A LONG DAY
One of the most distinct memories I have of my childhood is my older brother reading Tolkien's The Hobbit to me. My brother is nine years older than me. He should've been wanting to spend time with his friends. But that's the kind of guy he was. He was reading The Hobbit. He liked it. He wanted to share it with his little sister. ❤ I can't read any Tolkein without thinking about my brother John and how much I'd love it when he read to me.
In addition to the warm memories, The Hobbit is my choice because Tolkein's writing is lyrically beautiful. Like reading a lovely poem it's beauty comforts me, even when the story is epic.
4) THE BATHING SUIT
A BOOK WITH A PRETTY, SUMMER-Y COVER
I gave this book by Morgan Matson five stars! Though it may look like a fun, light summer read, it's got depth to it that truly made me appreciate the read. Taylor's family is spending their final summer with their father at their lake house. What should be a summer filled with swimming, tanning and friends becomes a little more for Taylor.
This one hit me right in the feels and I loved every minute of it. My original Goodreads review? "
It's been a while since I read a book in one sitting. But this gem demanded it."
5) THE BIRDS
It seems like all my book blogging friends were reading the ARC for Helen Hoang's The Kiss Quotient recently. And I'm over here like Veruca Salt: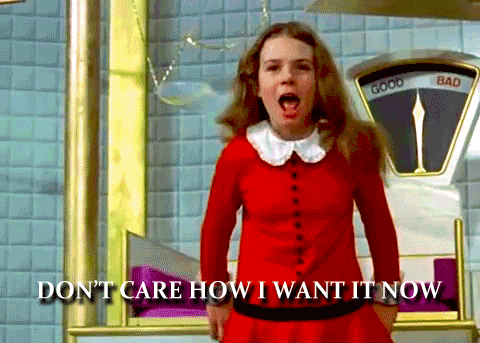 Though I'm so new to blogging I didn't know how NetGalley worked, so it's not like I asked for a copy. Now that the book is out, I'm too loaded down with my own ARCs but I  WILL read The Kiss Quotient!
6) THE COMPANY
A BOOK WITH WONDERFUL CHARACTERS
As I said in my review, one of the things I most liked about Maybe Someday is that it's a love triangle where all the characters are not just likeable, but lovable! All the characters in the triangle, to be clear, Bridget is a bitch. I know it. She knows it. And if you read the book then you know it too. LOL Though even Bridget is wonderful in her bitchiness. I want to spend time in the apartment with these people! Or better yet, pick them up and take them with me to the BEACH!
7) THE ICE-COLD DRINKS
A BOOK YOU ABSOLUTELY GULPED DOWN
To All the Boys I've Loved Before could've easily gone in the previous category too. Though not all the characters in it are wonderful, the three Song sisters totally are! I definitely gulped down this adorable book. In fact I tore through all the books in the series! And then I tweeted this:
And she liked it!!! Gah!
I may have mentioned it already (re: I totally did), but To All the Boys I've Loved Before is about to be released as a Netflix original movie. I don't know about you, but I'll be on my couch Aug. 17 waiting to gulp it down just as fast as I did the novel!
8) THE FUN MEMORIES
A BOOK YOU CAN'T WAIT TO RETURN TO
I'm a hockey fan, right? And Helena Hunting's
Pucked
series is required reading for every female hockey fan. I mean, it just is. It's funny, it's sexy, it's crazy, it's
hockey
.
I love the entire series and I will return to my favorite hockey players on July 10 when Hunting releases the final installment in the series, Pucked Love, and I cannot wait! I doubt I will have time to re-read the entire series by the 10th, but I'd like to at least re-visit Pucked as it is the novel where we first meet our Pucked Love hero and heroine, Darren and Charlene (#Darlene)!
So there it is, readers. Life's a Beach. I need to sink my toes in some sand, like ASAP.
I'm not tagging anyone on this one because no one tagged me. LOL But if you see this and you want to do it, well consider yourself tagged!